Rhys Kissell
THE EFFECTS OF CLIMATE CHANGE ON OCEAN HYDROACOUSTICS AND SONAR
Rhys, a current ADROITA team member, is a systems engineer with experience and training in Navy surface platforms, seaworthiness, software development, tactical data links, electronics, wireless systems, power generation and distribution. Rhys will present his paper - "The effects of climate change on ocean hydroacoustics and sonar" - at the 2023 International Maritime Conference during the Indo Pacific Maritime Exhibition.
ABSTRACT
Leveraging the Argo program's global fleet of oceanic data-collection robots, the Intergovernmental Panel on Climate Change's predictions for evolving ocean conditions, and a custom-built simulator, this paper investigates the impacts of climate change on the behaviour of underwater sound propagation and attenuation. The effects of climate change will differ based on oceanic characteristics, with low-latitude oceans undergoing a substantial acoustic transformation compared to the present, while polar oceans will experience a comparatively extreme transformation.
This paper acts as a pilot study and demonstrates that ultrasonic sonar transmissions (30 kHz) may propagate between 40% and 87% further than they do under conditions in 2023, while mid-frequency sonar transmissions (10 kHz) may propagate between 16% and 26% further than they do under conditions today.
These changes hold significant implications for military, commercial, and scientific sonar usage, as well as severe consequences for marine wildlife. Moreover, the altered acoustic environment will also influence the detectability of undersea vehicles, potentially impacting the efficacy of existing subsea stealth technologies.
This paper contributes to the relatively small existing body of literature by providing a multi-faceted view of anticipated changes in oceanic hydroacoustics due to climate change. It is of relevance to professionals in diverse fields including naval operations, marine biology, oceanography, and acoustic engineering. It further aims to address the literature gap with a pilot study, acknowledging the limitations due to a small sample size and simulator limitations, and to pave the way for future research.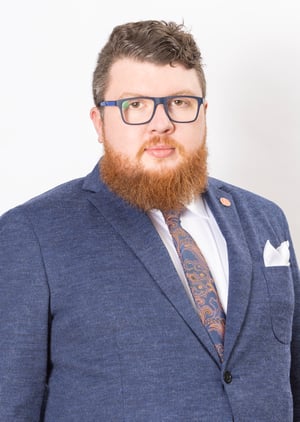 Rhys Kissell
ADROITA
Systems Engineer
Find out more about ADROITA
100% Australian and veteran owned and operated
ADROITA's leadership team of ex-military professionals, with specialties in engineering, commercial, integrated logistics support, product and program management, innovation and technology, have precision knowledge of warfighter needs and Defence requirements. We have the technical and professional qualifications and experience to help solve the most complex problems that Defence faces, on time and on budget.
Trusted veteran first-hand experience
CEO and founder of ADROITA, Sarah Pavillard, has 25 years of Defence experience as a former Naval Officer, Weapons Engineer and Consultant. ADROITA proudly grows Australian Sovereign Industrial Capability through our commitment to veterans, through retention of highly specialised Defence professionals, and by growing and nurturing an engineering workforce for the future.
Committed to long-term partnerships
ADROITA is committed to fostering long-term partnerships, whether providing expertise for Defence or guiding Australian businesses to secure sustained revenue growth from Defence contracts.